In all honesty, not loving Lima…. just doesn't have a great vibe….. perhaps because apparently the buildings and town has been built on old graves! Niiiice!
We did however however a fabulous dinner on the first night at a French restaurant on the Ocean…… despite having nothing on the menu that we could eat, they prepared a delicious Veggie meal for us! Yum……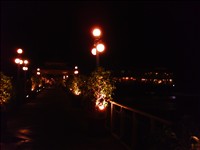 Good opportunity to take a little break and chill out, especially after all the excitement and walking in Cusco! It's time for the relaxing part of the trip, bring on Aruba… Wooh!